House completions in six months to the end of June break through 8,000-mark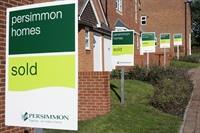 Persimmon is expected to report first half turnover of £1.84bn, up 5%, when it announces its interim results next month.
In a trading update ahead of its first half results announcement on 21 August the housebuilder said housing revenues were also 5% higher at £1.74bn, with completions during the first six months up by 4% to 8,072 homes.
The firm's average selling price rose by 1.2% to around £215,800, while the value of total forward sales of new housing as at the end of the first half was up 5% at £1.68bn.
Persimmon said it expected to improve on the underlying housing operating margin of 28.8% reported in the second half of last year through what it called "disciplined cost control and continued efficiency savings".
The housebuilder expects to open around 100 new sales outlets in the second half, to add to an existing portfolio of 375.
Persimmon said it was "focussed on increasing its output of family housing at affordable prices in locations where people want to live and work", adding that total enquiry levels were running around 6% ahead of last year.
The group, which had become bogged down in a row over the pay package awarded to its chief executive Jeff Fairburn earlier this year, came in for further criticism last month when the head of its remuneration committee was unable to tell MPs the average pay of its workers.
At a business committee hearing on executive pay awards Marion Sears said she did not know what the average employee earned, a response labelled a "disgrace" by business committee chair and Labour MP Rachel Reeves.