Plans are part of wider £1bn Longbridge regeneration project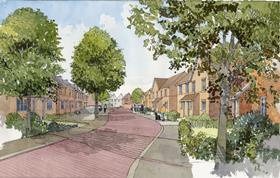 Developer St Modwen and housebuilder Persimmon Homes have been granted permission for a 229 housing development at Longbridge East Works site in Cofton Hackett, Worcestershire.
The development of two and three bedroom homes will also include a children's play area and is the first part of a wider £1bn regeneration project for Longbridge.
Bromsgrove council has also approved an overall plan for the site comprising 725 homes and 4,500ft2 community centre.
Richard Hickman, planning manager for St Modwen, said: "The former Longbridge East Works provides an excellent opportunity to deliver a new development that will integrate with the established community at Cofton Hackett through a mix of family homes."