Half year results show housebuilder increasing revenue to over £800m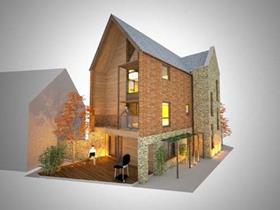 Housebuilder Persimmon has announced a 65% rise in underlying pre-tax profit for the six months to June 30 this year.
The firm said the rise, to £98.7m, was on revenue up 13% to £806.7m from the sales of 4,712 homes, 6% more than in the same period last year.
Persimmon chair Nicholas Wrigley said the results were "an excellent start" to the firm's plan to return £1.9bn in cash to shareholders over the next nine years.
The firm generated £112.9m in cash over the period, more than double the amount in the first half of 2011.
The underlying profit figure doesn't include a £1.7m write-back in the value of Persimmon's land bank, which is much smaller than the £12m write-back in the same period last year.
It also added 5,779 homes to the firm's land bank, representing over six year's supply at current rates of build. The operating profit margin was 12.2%.
The firm said sales rates were 18% up on the previous year over the period. However, since the end of June sales have slowed, and are now running just 5% above the prior year, with cancellation rates at "historically low" levels of around 18%. The firm said it will maintain the number of open sites at the current level of around 380.
The firm said it had now sold 220 homes through the government's NewBuy scheme, and said it was "pleased to see recent rate reductions by the lenders which should help affordability."
Wrigley added: "We expect conditions in the UK housing market to remain challenging reflecting the wider issues within the economy. However, we anticipate continued firm underlying demand for new homes but this will remain constrained by the low level of mortgage availability."