Rejection sends message that sustainable development must involve good design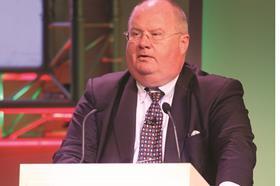 A government decision to reject a major Persimmon housing development on the grounds of poor design has thrown down the gauntlet to the housebuilding industry, observers have claimed.
In a move that may set a precedent for the National Planning Policy Framework's (NPPF) presumption in favour of sustainable development, communities secretary Eric Pickles cited the need for quality design in rejecting a planning appeal made by Persimmon Homes over its proposal to build 203 homes in the Lancashire town of Colne.
Persimmon's proposal was rejected by Pendle council, which lacks a five-year development plan, in January, sparking an appeal by the housebuilder.
Pickles, however, upheld the decision of the planning inspector to dismiss the appeal.
He said in a letter sent last week that there was "little evidence of a design-led approach to the appeal scheme and little attempt to connect the housing into its countryside setting", adding that Persimmon's proposal fell "significantly short" of the expectation for high-quality design in the local plan and the NPPF.
Low design standards remain a "weakness" among major housebuilders according to this year's Next Generation report, published exclusively in this week's Building.
David Birkbeck, chief executive of industry lobby group Design for Homes, said the decision made it clear that sustainable development must involve good design, adding that Persimmon would have succeeded by using Building for Life 12, the latest industry standard for well-designed homes.
Planning partner in Hogan Lovells, Mike Gallimore, said: "The decision shows the presumption in favour of sustainable development and the lack of a five-year housing supply will not mean permission will automatically follow.
"Other criteria need to be met and good design is a key element."
Peter Jordan, strategic land director for Persimmon's north division, said housing was needed in the area but that the site had a "challenging topography".
He added: "It is our intention to work with the council to seek to address the inspectors' concerns."