Saudi Arabian owners seek £770m by March to revive stalled tower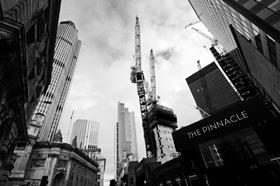 The Saudi Arabian owners of London's stalled Pinnacle skyscraper are planning to secure £770m of new investment for the project by March, with a view to restarting on site this year.
Property agent CBRE – which was drafted in by majority owners Sedco and sharia-compliant fund Pramerica last year to explore options for reviving the scheme that has been stalled since 2012 – said it plans to source £220m for purchase of the site and £550m for the build cost.
CBRE said the project team behind the original scheme – contractor Brookfield Multiplex, engineer Arup, architect Kohn Pederson Fox (KPF), cost consultant Aecom and M&E consultant Hilson Moran – have agreed to complete the project on a maximum price contract, should the new investors choose to retain them.
Building revealed in December that rival development teams led by Lipton Rogers and US-based developer Hines, backed by investors, are lining up rival bids for the scheme, which could see the existing development team replaced.
CBRE confirmed it has briefed a number of development teams with UK experience on its proposals and said interested parties have been asked to work with a revised design for the scheme drawn up by incumbent architect KPF.
The agent said its client will only consider proposals that stick to KPF's revised design. Were the scheme to go back to planning it would be subject to Crossrail and community infrastructure levies of around £20m.
CBRE also confirmed that Sedco and developer Arab Investments have now bought out sharia-compliant fund Pramerica.
Sedco and Arab Investments will retain a profit share in the Pinnacle development after new investors are found, but Arab Investments is likely to sacrifice its role as development manager.
KPF's revised design entails minimal changes to the exterior, with changes to standardise the 'snakeskin' cladding and the distinctive helter-skelter design retained.
Internal revisions are more substantial, allowing for more dense occupation and splitting the building into two distinct offices with two entrances.
CBRE said project completion was anticipated in the fourth quarter 2017.