Plans have been submitted by Watkin Jones for a 42-storey student accommodation tower in Cardiff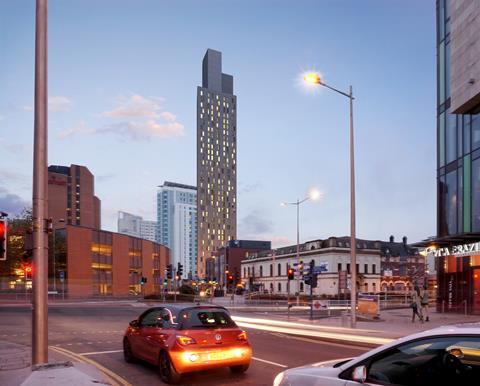 Developer and builder Watkin Jones has submitted plans for a 42-storey student accommodation tower on Customhouse Street in the centre of Cardiff.
Subject to planning consent, the firm plans to go out to tender to subcontractors in spring 2016 and begin on site by late spring on what will be the tallest building in Wales.
The 447-student bed accommodation is scheduled for completion in August 2018 and is then proposed to be managed by Fresh Student Living.
The tower will feature a 154 sq m sky lounge within the top three storeys providing an events facility and student common room area and 46 sq m of retail space at ground level.
Watkin Jones has developed close to 30,000 student beds since 1999, while Fresh Student Living is managing nearly 10,000 student beds across the country.