Designed by Connect-i, the wheel will be five metres taller than the London Eye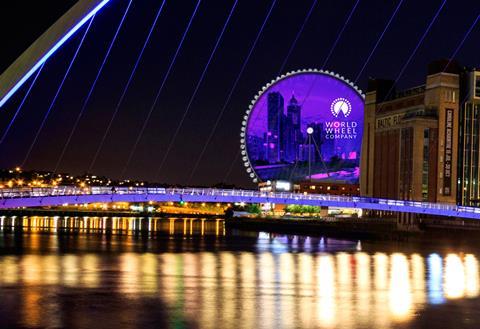 Proposals have been unveiled to build the tallest observation wheel in Europe on the banks of the River Tyne in the heart of Newcastle.
The 140m-high wheel, dubbed the 'Whey Aye' and designed by Bangkok-headquartered architect Connect-i, will be 5m taller than the London Eye.
If plans to be submitted to Newcastle city council later this year are approved, the wheel will be built on the site of the now-demolished Spillers Flour Mill by the World Wheel Company, a Hong Kong-based group behind a number of similar schemes around the world.
The wheel will feature a 10,000 sq m LED digital screen as its centre piece, carrying tourist information and advertising.
Phil Lynagh, chief executive of World Wheel Company's Newcastle operation, said: "Representing an overall investment of more than £100m, it will create up to 550 local jobs and deliver local building contracts worth in excess of £20m."
Plans include a pedestrianised experience featuring premium bars and restaurants and a world-leading 9,000 sq m visitor attraction called the Giants of the North Experience.