Developer Richard Desmond expects scheme to win planning this year
PLP has been asked to work up detailed designs for Westferry Printworks despite planning consent being quashed after housing secretary Robert Jenrick admitted his decision could have appeared biased.
Northern & Shell, the property company owned by former tabloid publisher Richard Desmond, said in its annual accounts this month it was confident the 1,500-home scheme would finally win approval before the end of the year.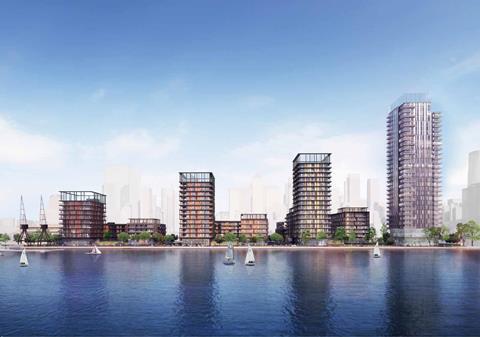 As a result, it said it was taking the financial risk of asking the architect to plough ahead with detailed designs in order to "lose as little time as possible in the development and sales programme" of the £1bn east London project.
The 30-storey development (pictured) on the Isle of Dogs was approved by Jenrick in January against the advice of a planning inspector, and just a day before a new planning charge would have cost the developer as much as £50m.
The planning decision was quashed and will now be decided by another minister at the Ministry of Housing, Communities and Local Government.
In a statement issued with its accounts on Friday, Northern & Shell said it was "naturally… disappointed with the interminable delay and the continued unwarranted obstruction of the local authorities".
But it emphasised its commitment to the project and its confidence that what it called a "vibrant new waterfront neighbourhood" would be approved by the end of 2020.
It added: "Aside from the planning machinations, the group is pleased with the overall progress of the development works which, to date, have progressed under the 2016 consent with the works being also applicable to the new scheme. The new scheme will not be implemented until consent is received and any resultant legal challenges have been overruled, however, the group at its own financial risk is currently working with its professional team on the detailed design of the new scheme so as to lose as little time as possible in the development and sales programme."
The firm won planning in 2016 for a smaller scheme on the 5ha site, also designed by PLP, when then-mayor Boris Johnson used his powers to approve it. Project manager on the scheme is Mace.
Meanwhile, Jenrick faces an appearance before the housing and local government select committee on 13 July. Its chair Clive Betts wrote to the minister last week with 26 detailed questions he wants answers to.