Research by the British Property Federation and Savills identifies pent up investment for build to rent sector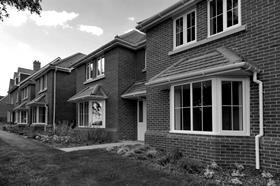 The next government could count on up to £30bn of private investment in the build to rent housing sector if it promotes the sector, a group of developers, pension funds and housing associations has claimed.
In an open letter to the future government, the Better Renting for Britain campaign, supported by the British Property Federation, says the Build to Rent sector could prove pivotal in solving the UK's housing shortages.
The campaign wants to create an American-style rental market with more professionally managed rented housing, built with the long-term occupier in mind.
It estimates that £10bn of potential investment has been identified, but with "the right conditions from an ambitious Government" as much as £30bn could be invested over the course of the next parliament, according to a survey by Savills on how much investors are poised to invest.
The study states that the £30bn figure would be enough to potentially build 150,000 homes which would house an estimated 350,000 people.
The signatories of the letter have called on the next government to ensure councils identify rental housing need and allocate land to it, work with the campaign to better inform the public on the rented sector, allow the sector to continue operating as a free market, use idle public land to generate income for councils by developing rental blocks, and modernise planning rules to differentiate between Build to Rent and housing for sale.
Melanie Leech, chief executive of the British Property Federation, said: "Supporting the build to rent sector will help the next government meet the housebuilding targets that all the main political parties have pledged to voters during this election.
"It will help reinvigorate our city centres and support local authorities that want to help retain their young people who need homes. And most importantly, for renters, it will revolutionise the sector, providing greater choice of tenure length, rent certainty and high levels of customer service."
Nick Jopling, executive director for property at Grainger plc, added: "Not only do we need to build many more homes, but we need to make sure renters get a better deal.
"As a business that's been around since 1912, we want to see a rental market that provides long term options as well as good value for money and customer service. By supporting 'build to rent', the future British government can encourage companies like ourselves to help increase housing supply and improve standards of living in the rental market."