Ecobuild latest: Former deputy prime minister calls for cross party unity to tackle climate change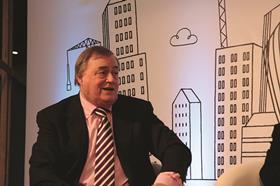 Former deputy prime minister John Prescott has issued a stirring call for cross-party unity in dealing with the challenge of climate change - and has used one of David Cameron's most famous phrases to do so.
Lord Prescott was speaking at an environmental resilience debate at the Ecobuild conference when he used the phrase "we're all in it together" in a nod to Liberal Democrat and Conservative counterparts on the panel.
The Labour stalwart said bettering the environmental performance of the UK's housing stock was key to improving the nation's low-carbon credentials, but said focusing only on new-build homes missed "95%" of the problem, which would require retrofitting existing homes.
Lord Prescott, who played a key role in the negotiation of the Kyoto Protocol on climate change in 1997, also told the panel that he believed China was slowly "coming around" to the importance of such agreements.
Should Labour win this May's general election, leader Ed Miliband has said that Prescott will represent the UK government at the Paris climate summit this December.