Firm aiming for £2.2bn income and margins of 2.5% by 2022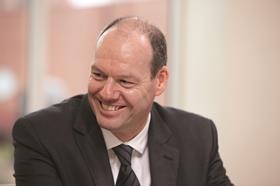 Mace put the problems of 2016 behind it last year as the firm said pre-tax profit recovered to more than double to £23m.
The firm's 2016 numbers had been blighted by problem jobs, including its Nova mixed-use scheme in London's Victoria, which sent profit crashing more than two-thirds to just £10.7m.
But the Battersea power station builder said pre-tax profit jumped 115% last year on turnover flat at £1.97bn.
Its biggest arm is its construction division which saw revenue last year stay flat at £1.63bn. Its FM and consultancy arms posted a combined income of just under £390m – up from 2016's figure of £323m.
The firm, which now employs close to 6,000 people, said turnover from overseas was up 29% to £665m.
Chief executive Mark Reynolds (pictured) admitted: "2017 was a year of rebuilding. Following on from challenges and the lessons from 2016, we implemented a number of strategic initiatives that placed greater focus on operational controls and management of both our clients' and our own risks."
The firm's finance director Dennis Hone added the firm's results for 2017 would have been better but added: "The project losses that impacted on our results in 2016 continued to adversely impact our financial results in 2017, as our challenging projects achieved practical completion and commercial negotiations continued during the year. We believe that we have fully provided for the impact of these schemes."
And Hone, a former chief executive of the Olympic Delivery Authority, warned clients to heed the example of Carillion's implosion in January and not draw up adversarial deals with main contractors.
He added: "While it is understandable that clients will seek to bear down on development costs and transfer risk to the supply chain, the failure of Carillion illustrates that significant residual risk will always remain with the client if they enter into contractual arrangements that ultimately prove to be undeliverable."
Mace is rejigging its contracting business next week as part of a five year plan called 2022 Business Strategy.
The firm wants to see revenue of £2.2bn by 2022 and cumulative profit during the period of £180m. It said margins by 2022 are expected to be at least 2.5%.
Mace ploughed nearly £50m into research and development last year but said it is looking at increasing this to £350m over the upcoming five years.