Proposals include abolishing 'kafala' sponsorship system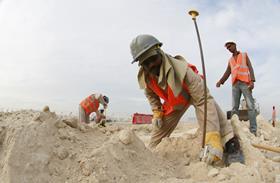 Qatar has announced plans to reform its controversial labour laws, including abolishing its "kafala" sponsorship system that ties workers to a single employer and restricts their movements in and out of the country.
Civil servants announced the package of reforms in Doha today, including a proposal to make it easier for foreigners to leave the country and change jobs.
Under the proposals, Qatari employers would have to show "compelling" proof of any objection to a worker leaving the country and disputes would be resolved within three days.
Other possible changes include mandatory employee welfare contracts, sanctions against employers who fail to meet their obligations, and closer bilateral regulatory links with the workers' countries of origin.
According to the Guardian, Colonel Abdullah Saqr al-Mohannadi, human rights director of the Qatari interior ministry, said: "We are going to abolish the kafala system and it will move to the legislative institutions.
""It will be replaced by a contractual relationship between employer and employee. We hope that the exit visa will be abolished completely."
Critics said implementation and timing of the reforms was unclear, as was the nature of the system that will take the place of existing practices.
Sharran Burrow, general secretary of the International Trade Union Congress, said: "Modern slavery will still exist in Qatar despite the announcement of cosmetic reforms to the labour law today.
"No time frame or process associated with the reforms has been detailed.
"Qatar's notorious exit visas will remain in place, with the Interior Ministry now deciding who can leave the country. There is no indication on the fate of employees of government bodies who are being kept in Qatar against their will.
"There is no freedom of association, no minimum wage, and no effective labour compliance system. None of the laws seem to apply to domestic workers.
"No moves were announced to stop the death and injury toll amongst the migrant workforce.
"While freedom of movement for workers should always be respected, with the removal of the 'no objection certificate', the employer still sets the contract, the wage, and employees cannot join a union and negotiate.
"All these laws do is make it easier for employers to recruit staff as the World Cup infrastructure programme expands."
But UK trade union Ucatt was more positive. Steve Murphy, general secretary of UCATT, said: "This shows the power of international trade unionism which has forced Qatar to act.
"This cannot be a cosmetic exercise and must be the first step in ensuring that all migrant workers in Qatar receive full employment and human rights."
The Qatar 2022 World Cup organisers began inspecting contractors' treatment of workers who are bidding for work to build tournament venues and infrastructure earlier this year.
Construction has begun on the first stadium, Al Wakrah (pictured), which will enforce the tournament's workers' welfare charter.