Right to buy, starter homes, devolution, small businesses, skills and labour reforms in government's legislative programme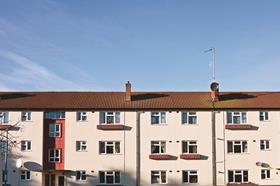 Government plans to extend the right to buy to housing associations in this week's Queen's Speech have been described as "mad" and likely to worsen the housing crisis.
The government's Housing Bill aims to put housing at the heart of the government's legislative agenda, and includes measures to build 200,000 starter homes, draw up a register of brownfield land, and give individuals a "right to build" their own home, as well as extending the right to buy policy.
Housing associations have expressed concern that the measures, which will see tenants receive subsidies of up to £100,000 to buy their home, paid for by the sale of high value council-owned homes, could damage their borrowing capacity and thereby threaten the delivery of new housing.
Melanie Rees, head of policy at the Chartered Institute of Housing, said right to buy will "threaten supply" and added: "There are a whole range of things that mean, in the short-term, this is just going to worsen the housing crisis."
Henry Gregg, assistant director of campaigns and communications at the National Housing Federation, said the policy was "not a solution to our housing crisis" and left the sector effectively "trying to fill a bathtub with the plug taken out".
He said that forcing housing associations to sell off their properties set "an extremely dangerous precedent" of government interference in independent businesses.
Brendan Sarsfield, chief executive of housing association Family Mosaic, and a member of the influential G15 group of developing housing associations said that the plan to pay for the measure by forcing councils to sell off homes was "mad."
He said: "It's a very inefficient system with lots of administration costs - they will have to undertake three property transactions for every right to buy sale.
"If I was a firm thinking of investing in the private rented sector with government help, I'd now be very worried about this. In many ways it's a nationalisation by the government."
The Housing Bill commitment to build 200,000 starter homes over the next five years was welcomed by housebuilders but architects have raised concerns about the standards the homes will be built to.
Stephen Hodder, president of RIBA, said: "It is vital that the pressure to quickly alleviate the housing crisis doesn't lead to sub-standard homes and communities."


Government aims to devolve powers to cities within months
The government will press to implement a devolution bill early in this parliament, with the Queen's Speech on Wednesday outlining a bill that offers a blueprint for city regions to obtain more powers from central government.
The Cities and Local Government Devolution Bill will provide the legislative framework to deliver devolved powers to Greater Manchester, as agreed in autumn 2014, and for these powers to be rolled out to other city regions when requested, dependent on them electing a city mayor.
Template powers to be devolved include powers over police and crime, economic development, regeneration and transport.
Jonathan Turton, a director at KPMG, welcomed the announcement of the bill. He said: "It is important that local authorities and councils prove their ability to […] manage these serious sums of money, but I don't think we should underestimate the ability of localplaces to do that".
Jon White, UK managing director at Turner & Townsend said the government's insistence that cities introduce elected mayors "could prove an early stumbling block [as] several other city authorities have shown reluctance to accept a directly elected mayor in return for the extra money - and power – being offered under devolution".
Nick Baveystock, director general at the Institution of Civil Engineers, said: "There is no 'one-size fits all' model and government should devolve powers according to the needs, ambition and capacity of each area."

Industry backs Enterprise Bill
Industry groups have praised the government's Enterprise Bill announced in the Queen's Speech.
The main areas outlined in the bill are to cut red tape, improve the business rates system by 2017 and tackle late payment.
A Small Business Conciliation Service, designed to help resolve business-to-business disputes and in particular late payment, was praised by construction firms.
Sarah McGonagle, head of external affairs at the Federation of Master Builders, said the policy will help SMEs stand up to larger companies.
She said: "For our members, putting their head above the parapet when it comes to late payment from large contractors could mean they won't get work in future. Hopefully this policy will solve that issue."

Cameron announces labour and employment plans
The majority Conservative government has unveiled a raft of bills in its Queen's Speech on Wednesday that will impact on skills and labour relations within the construction industry.
Within its Full Employment and Welfare Benefits Bill the Conservatives will legislate to hit their target of creating three million apprenticeships over this parliament, and has promised to report annually on its progress towards this target. Many construction firmssigned up to the previous coalition government's apprenticeships push and are likely to do so again this parliament.
In the Immigration Bill, the government set out plans to consult on implementing a new visa levy on businesses using foreign labour to help fund apprenticeships for UK and EU workers.