Steve Morgan speaks of election 'nightmare' for housebuilders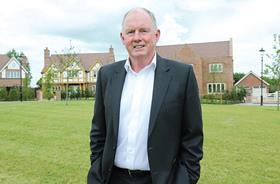 Redrow chairman Steve Morgan has described the possibility of a hung parliament after the next election as the 'nightmare' scenario for housebuilders.
Speaking to Building following Redrow's record half-year results yesterday, which saw pre-tax profit at the company rise 92% to £91m, Morgan said instability created by a hung parliament could cause housebuilding to fall to a standstill due to a power vacuum in parliament.
Morgan said: "All political parties have the same pro-housing agenda. They may have variations, but at least we're not seeing political parties which don't [want to do] anything. They all want housing in some form or another.
"What would be more of a nightmare is if there's a hung parliament and end up with indecision which could cost the industry."
With the polls currently too close to call between a Conservative or Labour government and the rise of minor parties including UKIP and the Green Party, the chairman of Redrow said stability is key for any future plans to solve the housing crisis.
"We're hoping that there will be a positive result, and with that we mean a government which has got a mandate."
Morgan's comments come as Redrow published record trading figures for the company's half-year results. In the six months to end of December revenue at the firm soared to £560m, taking total revenue for the calendar year through the £1bn barrier.
Redrow also identified changes to Stamp Duty and the Help to Buy scheme among the reasons for the boost in figures, but according to Morgan planning issues remain the biggest obstacle to house building in England and Wales.
"The NPPF was a major seismic shift in the approach to planning, for me that was the tough decision to make changing the system in that way.
"For me the biggest things we have to do is sort out planning at the front end, the NPPF has done a great job to get a 5-year land supply sorted. However the red tape side of it was the kind of thing which the public doesn't see too much."