Half-year results help boost revenue for 2014 calendar year to over £1bn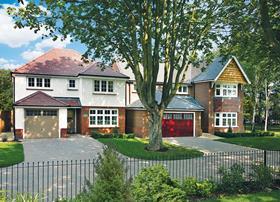 Record half-year turnover has helped Redrow Homes break the £1bn revenue barrier.
First-half results for the six months to December 2014, posted this morning, show the housebuilder's revenue soared to £560m over the period.
Speaking to Building, Redrow chairman Steve Morgan noted that when taken with the previous six month period to June 2014, the firm achieved turnover of £1.1bn in the 2014 calendar year.
Morgan attributed the record revenue to an increased contribution from the firm's London division, combined with increased contribution from sites in the south of England.
Increased demand, a jump in average private selling prices and a softening in building costs also helped pre-tax profit to rise by 92% to £91m over the six months to end of December.
The rise in average private selling prices to £300,000 from £262,000 in 2014 saw group revenue soar to £560.6m from £363m for the six months to the end of 2013.
Completions rose 18% to 1,850, with private sales rising 30% to 1,654.
Redrow has identified the changes to Stamp Duty and the Help to Buy scheme among the reasons for the boost in figures, which saw revenue at it's London divison alone soar from £41m in 2014 to £145m in the latest results.
Speaking about the results Morgan said: "Demand for new homes is strong and the recent welcome changes to Stamp Duty are undoubtedly helping home buyers within our market segment.
"Whilst we are only at the beginning of the spring selling season, demand for new homes is strong and the welcomed changes to stamp duty will undoubtedly help home buyers within our market segment.
"I am delighted to report Redrow has again generated outstanding results. Our policy of retaining capital to concentrate on growth continues to reap the benefit, with a further substantial rise in both turnover, up 54% and pre-tax profits, up 92%."
Although the company is basking in record numbers, Morgan warned that planning still remains the biggest obstacle to delivering the government's aim to build £200,000 homes per year to solve the housing crisis. "Despite the welcome initiatives introduced by the Government over recent years, obtaining detailed or reserved matter approvals remains a slow and tedious process and is the single biggest obstacle to the industry increasing the volume of new homes that the country needs."
Morgan noted that build costs had eased in the past year: "I am pleased to report that both house prices and build costs have moderated to sustainable levels.
"We started the second half with a very strong order book and are expecting to increase the number of active outlets to 115 by June 2015, a 12% increase."
Gross margin at the firm rose to 22.4% up from 20.3% in 2014, the company announced that earnings per share rose 93% to 19.9p.