Project beset by unrealistic optimism about hitting December 2018 deadline and lack of knowledge at top, KPMG review finds
Crossrail's board lack the necessary skills and experience to ensure effective decision making and appropriate board challenge, a damning review by KPMG has found.
The firm, which was asked to review Crossrail's governance and finance arrangements last September, said interviews with stakeholders including representatives from joint sponsors the Department for Transport and Transport for London, as well as Crossrail board directors and executives, revealed gaps in the board's capability.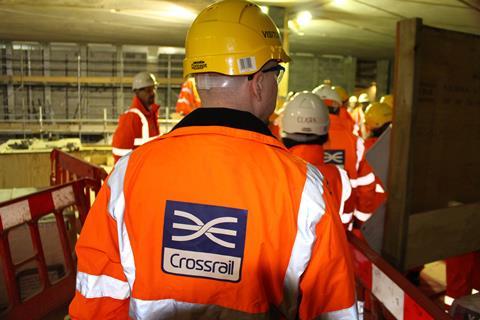 The review said: "These capability gaps reflect the current status of the programme and the experience and skills necessary to ensure effective decision making and appropriate Board challenge.
"The areas identified are commercial construction, construction close-out and railway systems and network integration."
The Big Four accountant said while there were gaps it was not a case that there was a complete lack of these skills but rather insufficient capability or experience.
KPMG said former Arup chairman, Terry Hill, who stood down as a non-executive director at Crossrail in June last year, had previously provided experience in construction close-out.
The review found that Crossrail's performance monitoring and reporting had "not led to timely and adequate advance notice being provided of the need to materially change the Stage 3 opening date [the central London section that was due to have opened last month] and the resulting significant cost impact".
It said cost scenarios prepared by Crossrail at TfL and DfT's request last March, did not take into account the potential impact of any irrecoverable delays in infrastructure works.
KPMG said: "A feature of the increasing optimism was a failure to identify, and/or report on a timely basis, the point at which it became unrealistic to expect all remaining activities to be completed within the diminishing timeframe for planned stage three opening.
"This should have led to revised expectations as to time and cost outturn being developed and reported."
Tony Meggs, the newly appointed chairman of Crossrail, said the board welcomed the report and would develop a response plan to deal with a number of its points.
He said: "Several of the recommendations are already being implemented including a refreshed leadership team and taking steps to ensure sponsors have confidence in the quality of programme and performance data provided by Crossrail.
"The Crossrail board and executive team remain fully focused on ensuring the Elizabeth Line is completed safely and brought into service for passengers as quickly as possible."
Meanwhile, the review found that several key management committees at Crossrail had been shut down as last month's proposed completion date neared.
The audit and health and safety committees were disbanded in the lead up to December, while the risk sub-committee had also been broken up.
KPMG said: "CRL [Crossrail Ltd] had a risk management process in place that was in line with what we would expect to see on large complex programmes of work of this scale and complexity.
"However, at the start of 2018 it modified the processes to remove the control of risk and contingency management from the projects to the central programme level.
"In our experience it is unusual to manage risk through qualitative assessments at project level when the project teams are best placed to quantify risks and assess probability."
The review said that while it was normal to expect risk levels to reduce towards the end of most projects, in the case of Crossrail the integration of all aspects of the works was one of the largest risk elements of the entire programme.
Crossrail's corporate governance structure