Firm's construction arm lost £3.5m during the period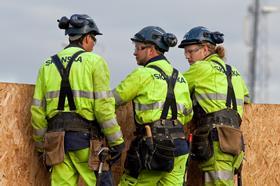 Skanska's profits have plunged in the first three months of 2018 thanks to restructuring costs within its construction business.
The company's total operating income fall to SEK652m (£55m) between January and March of this year, compared to SEK1.85bn (£156m) in the same period in 2017.
The Swedish firm's construction business took a significant hit, running at a SEK41m (£3.5m) loss for the first three months of 2018, compared to a surplus of SEK392m (£33m) in the same period last year.
The loss included restructuring costs of SEK430m (£36m) and project writedowns from its Polish construction arm of about SEK600m (£51m).
Skanska president and chief executive Anders Danielsson said: "We remain focused on extensively restructuring Skanska's construction operations in Poland, as well as on reducing the scope of our activities in the UK to a core, profitable business."
"In the construction stream, the restructuring measures are significant and the associated costs are slightly above what was previously communicated."
The firm also reiterated concerns about uncertainty related to Brexit limiting investment in the non-residential building market, predicting a weak market in the next 12 months.
Skanska launched the overhaul of its UK business in March, just weeks after problems in the local market were flagged as a major factor in the Swedish contractor's freefalling profits.
Announcing its 2017 results in February, Danielsson said in future it would "focus on the core business" in the UK, where it employs close to 6,000 people.
The UK business, which is close to completing its work on the 36-storey Scalpel tower in the City and which last year took a SEK360m (£32m) writedown on a number of unnamed projects, has confirmed there will be job losses as part of the restructure.
The company, which is set to complete Carillion's work on the stalled Midland Metropolitan Hospital, will be split into building and building services divisions, with infrastructure sitting in a division of its own.
In January, the firm announced that it was cutting 3,000 jobs from its 41,000 strong global payroll in a move to improve falling profitability.
Danielsson said the majority of the job losses would be from its Polish business.
Group revenue for the first quarter was up 8 per cent to SEK 36.95bn (£3.1bn) from SEK 34.18bn (£2.87bn) 12 months earlier.