Firm says group's order book stands at nearly £10bn
Infrastructure is now Kier's biggest business after delayed projects and work put on hold sent revenue at its construction arm down by close to 20%.
The firm said income from construction fell from £1.8bn to £1.4bn in the year to June 2022.
It said it had been expecting the drop and added that the division's order book for the coming year was up 27% to £4.2bn. But it said the impact of the spike in project costs was continuing to hit public sector schemes. "During the year, we have seen UK government procurement delays driven by cost inflation."
The construction arm also racked up £39m of adjusting items which Kier said included £22m of restructuring costs at its Southern Build business as well as nearly £9m on the cost of dealing with cladding repairs.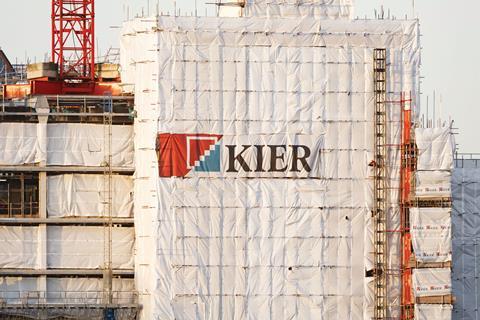 Its infrastructure business, which carries out utilities and highways work, saw revenue up 17% to £1.7bn and an order book up 27% to £5.6bn.
Kier also said it spent a further £6.5m on redundancy costs across the group while it also had to shell out a further £7.1m on professional fees which included costs related to the sale last year of housing business Kier Living and the equity raise also completed in 2021.
Cenkos analysts Andrew Gibb said: "There's still a bit of cleansing going on with the exceptionals but the underlying business is going in the right direction. Infrastructure looks to be in a good place."
It said the average month-end net debt was down to £216m from £432m following the Kier Living disposal and capital raise which it added would have been lower still but for the adjusting items, the repayment of a £21m tax bill to HMRC, deferred by the pandemic, and £29m of its supply chain finance facility.
But it said it expected average month-end net debt to go back up in FY23 because of the HMRC and supply chain finance payments "as well as the impact of lower activity in our Construction business until the fourth quarter of the year. In FY24, we expect the reported net debt to decrease with free cash flow generation given the Group's increased order book, expected revenue conversion and associated working capital inflow. The Group also expects a significant reduction in adjusting items."
In the year to June 2022, Kier said group revenue was flat at £3.3bn with pre-tax profit up from £5.6m to £15.9m. Underlying operating profit, before adjusting items, was up 20% to £121m. Its order book was up 27% to £9.8bn.
Chief executive Andrew Davies said: "[The order book] gives us certainty against the market backdrop. The new financial year has started well and we are trading in line with our expectations, despite continued inflationary pressure and see no change in the current market outlook. We remain focused on the delivery of a sustainable net cash position and sustainable dividend policy."
The firm said last year its targets over the next three to five years were £4bn to £4.5bn of revenue, operating margins of 3.5% and a sustainable net cash position.