Crown Estate unveils £450m scheme to transform a major part of St James's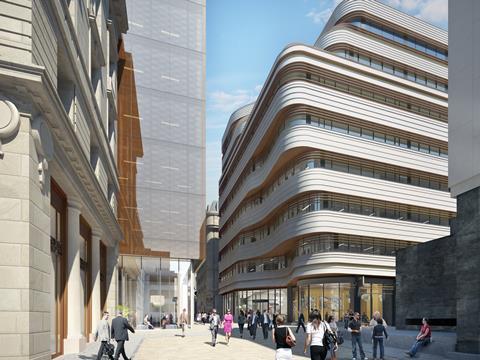 The Crown Estate has revealed designs by Make Architects for a £450 million redevelopment of St James's including Pall Mall and the Haymarket.
The scheme, known as St James's Market, has now been submitted for planning and will create nearly 340,000 sq ft of mixed-use accommodation between Regent Street and Haymarket.
The project is a commercial redevelopment of two blocks to create 211,000 sq ft of office and 45,000 sq ft of retail and restaurant accommodation.
St James's Market is a redevelopment of 14-20 Regent Street and 52-56 Haymarket. The Haymarket block would be replaced, while the Regent Street block would be redeveloped behind both retained and new façades.
The St James's Market proposals also include three associated private residential and affordable housing schemes by architects Tate Hindle, Paul Davis & Partners and Burwell Deakins. These will create new homes totaling 60,000 sq ft, ranging from one bedroom apartments to four bedroom family homes.
The proposals mark the next stage of The Crown Estate's investment programme for St James's where it owns a £1.1 billion, 4 million sq ft portfolio, comprising nearly 50% of the buildings in the area.
Alastair Smart, head of development at The Crown Estate said: "St James's Market is perhaps the most significant development we have ever undertaken and builds on the two schemes currently on site as part of our investment in St James's and Regent Street to provide modern space for global businesses."
The scheme takes its name from the now lost area of St James's Market, which between the 17th and 19th centuries offered a spacious street of inns, entertainment, and a busy hay and straw market, attended by 1,300 hay and straw carts a month.
In the early 19th century when John Nash redeveloped Regent Street, this historic area was lost.