Oxford Properties takes 50% stake in St James's Market scheme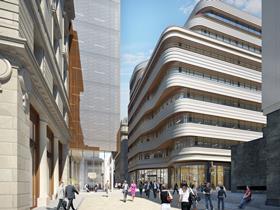 The Crown Estates has entered a joint venture with Oxford Properties to develop £320m St James's Market in central London.
The Make-designed scheme involves the redevelopment of two blocks between Haymarket and Regent Street to create 200,000 sq ft of office space and 45,000 sq ft of retail, restaraunt and leisure accommodation.
The Crown Estate said they were bringing Oxford Properties on board for the "strength of its global platform and relationships". Both parties take a 50% venture and a 150-year leasehold interest in the two blocks.
Paul Clark, The Crown Estate's director of investment and asset nanagement said: "Partnering with an organisation of the calibre of Oxford Properties speaks volumes about the market's confidence in our specialist approach to managing third party funds.
"St James's Market will deliver the most ambitious redevelopment in St James's in the last century and represents a major tipping point for our strategy for the area."
Paul Brundage, executive vice president, Oxford Properties said: "St James's Market represents a truly exciting opportunity for us to partner with one of London's foremost property companies on a landmark project that will transform a historic corner of London.
"Our organisations are not only aligned financially but so too are our beliefs, values, approach and long-term view. We look forward to working with The Crown Estate and bringing our global and local development expertise to realise the vision for St James's Market".