Stephen Hodder joins Richard Rogers and Tessa Jowell in calling for design review on all stations on £15bn line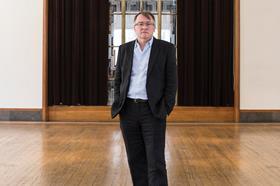 The president of the RIBA has warned that Crossrail may leave a "mediocre" legacy unless design quality is upheld on all its stations.
Building revealed last month that bosses on the £15bn transport scheme – Europe's largest infrastructure project - had decided against using a dedicated design review panel set up by watchdog Cabe to scrutinise 27 of its redeveloped surface stations after previously using such expert advice on its new-build underground stations in central London.
This move was attacked by former culture secretary Tessa Jowell MP and architect Richard Rogers, who warned the stations may not live up to the country's "great railway heritage".
Now RIBA president Stephen Hodder has added his voice to the growing calls for Crossrail to re-think its approach.
He told Building: "Crossrail has the potential to transform many communities. The redeveloped surface stations in London's outer boroughs and the South East could become beacons of growth and provide foundations for decades of exciting new developments and expansion.
"Let's look to Victorian ambition as our precedent and remember that it's still their quality of architecture and design, their elegance of engineering that continues to shine at Kings Cross and St Pancras, despite the impressive recent improvements. We can't afford to leave a mediocre legacy.
"Design review provides an independent low cost way of ensuring that the new stations in the Crossrail project become the benchmark for design quality and are distinctive and engaging places each community can be proud of. Crossrail could become the envy of any great, modern city, but only if it delivers on its significant potential.
"To ensure this we urge Network Rail and Crossrail to reconsider and to establish design review for all its surface station improvements."
A spokesperson for Crossrail said: "The majority of the 27 existing stations that will operate Crossrail services will receive improvements such as platform extensions to accommodate longer trains as well as new lifts and other passenger improvements.
"However, major redevelopment of these surface stations is not required to enable Crossrail services to operate. Urban realm schemes are being produced for all the stations in London and these designs have been subject to design review by Urban Design London, while Cabe provided design input to the nine new build Crossrail stations in central and southeast London."