Consultant also aiming for one-fifth increase in group revenue in four years, says director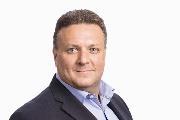 Rider Levett Bucknall (RLB) wants its UK turnover to be more than a quarter of its overall business in four years' time, with the consultant eyeing a one-fifth growth in group revenue by 2021.
The company formed in 2007 when consultant Bucknall Austin merged with Australian firm Rider Hunt and Asia-Pacific-based firm Levett and Bailey to form a 1,800-strong international practice.
In its latest results, the firm, which has since doubled its headcount to 3,600, said group turnover was £212m for the year to 30 April 2017, up from £189m last year.
RLB's UK office has also posted an 11% increase in turnover to £50m for the year, up from £45m for the previous financial year, while gross profit for the UK was £2.5m.
The firm plans to hike this to £3.5m for next year.
Andy Reynolds (pictured), UK and global board director at RLB, told Building that the firm had a UK target of achieving £70m turnover by 2020/21, while globally it is aiming to hit £260m in revenue.
In the UK, the firm has picked up places in the past few months on two large government frameworks: the Education & Skills Funding Agency Free School framework, to provide project management services; and the Crown Commercial Services £2.9bn consultancy services framework, to provide cost consultancy services.
Reynolds played down the impact of the recent hung parliament and upcoming Brexit negotiations and said there had been no drop-off in inward investment. He added that the firm planned to increase employee numbers at RLB's UK arm to 600 over the next 18 months, up from the current 450.
He said the firm would target organic growth and added there are "no plans for any more acquisitions or mergers going forward".
Last summer, RLB bought Schumann Consult - a 25-strong firm set up in 2013 by former Davis Langdon employees, father and son Nick and Mark Schumann.
The firm merged with RLB seven months after it was set up. Elsewhere, RLB has expanded its overseas alliances in the last month, adding Danish property consultant Emcon to its roster along with design and cost management consultant Bates, which covers south-eastern Europe and the Balkans including Bulgaria, Croatia and Serbia and Montenegro.