Stricken Welsh steel contractor Rowecord could end up owing creditors as much as £50m as administrator fails to find buyer for business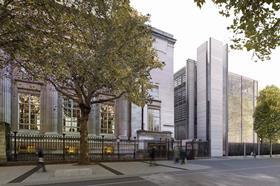 Stricken Welsh steel contractor Rowecord could end up owing creditors as much as £50m, twice the figure initially expected, the firm's administrator has admitted.
Yesterday administrator Grant Thornton held a meeting with creditors of the contractor, which fell into administration in April.
Speaking to BBC Wales following the meeting, senior partner at the Wales office of Grant Thornton in Cardiff Alistair Wardell said creditors had been told that the £24m owed by Rowecord could yet double because of breaches of agreements with other companies.
He said: "It's very difficult to say but it could be twice as much as the existing creditor pool.
"It could be multi-million but we need to look at the validity of those claims and as assess whether they are true and fair and whether they would be taken into account."
As Building reported last month, the firm owed creditors £24m at the time of its collapse in April.
Among the hundreds of unsecured creditors is Port Talbot based engineer Andrew Scott, which is owed £2.8m; Welsh roofing specialist Aberclad Industrial Roofing, which is owed £783k; and scaffolding firm Xervon Palmers, which is owed £633k.
Yesterday a planned auction of Rowecord's assets was cancelled, after a single buyer bought all the items on the catalogue prior to the auction.
According to BBC Wales, the buyer was a foreign firm, which bought all the firm's machinery and vehicles but did not buy the firm's Newport base.
As Building reported last month, the administrator had given interested buyers a deadline of 1 July to table an offer for the business.
This morning the administrator said Rowecord remained in administration and "will be for several months to come".
In a statement, Grant Thornton said: "Rowecord is not in liquidation although this will follow at the end of the administration.The buyer has merely bought the assets direct from the auctioneers as advertised in the auction catalogue. We have not sold any part of the "business undertaking" and no employees will be transferring to the asset buyer."
After the collapse of the firm, the administrator kept on 75 staff to finish work in progress, including steelwork on an extension to the British Museum (pictured), with a further 435 Rowecord staff made redundant.
Rowecord built the roof of the Zaha Hadid-designed Olympic Aquatic Centre as well as the stadiums for Cardiff City Football club and the Llanelli Rugby Club.