Savills' investment management arm has purchased an industrial site in West Croydon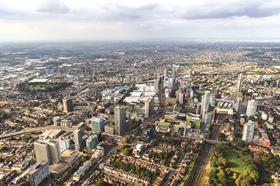 Savills' investment management arm is planning to develop a £40m mixed-use scheme in Croydon, after purchasing a major site in the south London area.
Savills Investment Management (Savills IM) has bought the site in Grafton Street, West Croydon, on behalf of its Prime London Residential Property Fund II, in a joint venture with Urbanwise.
The international property investment manager plans to create a mixed-use development, to be called the Grafton Quarter, which will be comprised of 97 flats and houses, as well as a 78 studios for artists and start-ups.
Julian Symons, director of development at Savills IM, said: "This exciting project meets the investment criteria for PLRDF II in terms of geography, price point, returns and lot size. The need for additional quality affordable housing in London is far stronger than in any other part of the country."
Savills IM and Urbanwise are also in partnership to develop Callis Yard in Woolwich, near to the new Woolwich Arsenal Crossrail station.
PLRDF II, like the first such fund from Savills IM, allows investors to share in development profits by investing alongside proven developers in London residential development transactions. PLRDFII is targeting mid-market residential developments.