Leaked document reported to show senior police officer met members of the Consulting Association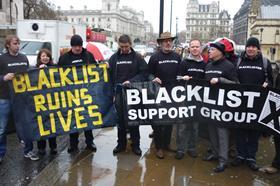 A leaked document reportedly showing a senior police officer briefed the organisation that compiled an illegal blacklist of more than 3,200 construction workers is being investigated by Scotland Yard.
The leaked document reportedly shows that in 2008 a detective chief inspector in the police force's National Extremism Tactical Coordination Unit (Nectu) briefed members of the Consulting Association (CA), which was behind a blacklist that prevented people from working in construction.
The two-page document, seen by the Observer, contains CA minutes of a meeting between six representatives of construction companies and the detective chief inspector at a hotel in Oxfordshire, and appears to show the officer was there to explain the tactics and structure of police efforts to fight domestic extremism, according to the report.
A spokesperson for Scotland Yard said the leaked document was being investigated as part of a wider investigation into alleged police links to blacklisting, under the umbrella internal investigation Operation Herne into potential criminality and misconduct in the force.
The spokesperson said: "The complaint alleging breach of the Data Protection Act by police is being investigated by officers from Operation Herne. The investigation is still ongoing at this stage.
"Operation Herne is an ongoing investigation examining both potential criminality and misconduct by officers who were part of the Special Demonstration Squad. Four strands of that investigation are being overseen by the Independent Police Complaints Commission."
Blacklisting came to light a year later in 2009 when the Information Commissioners Office (ICO) seized a CA database of 3,213 construction workers used by 44 companies to vet new recruits.
The ICO told an employment tribunal in 2012 that it believed information held on the blacklist was from the police or security forces, but the police have refused to confirm whether or not information passed between police officers and the CA.
Labour MP John McDonnell, to whom the document was leaked, has written to home secretary Theresa May to demand an independent inquiry into blacklisting and the role of the police.
Blacklisting victims' group the Blacklist Support Group, which is currently suing the contractors that were involved in CA, described the leaked document as "a major breakthrough for the campaign".