Balfour Beatty awarded £31.5m management contract to deliver fit-out of FBI-style crime fighting HQ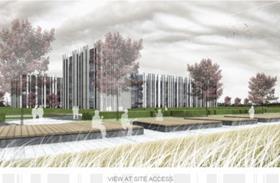 The £80m Scottish Crime Campus project has entered its final phase after Balfour Beatty was awarded a £31.5m management contract to deliver the fit-out of the new crime fighting centre.
In March, the contractor won the initial £3.4m job to manage the procurement and delivery of around 42 work packages required to fit out the Scottish crime campus.
The contractor has now been awarded a further £31.5m management contract to deliver the fit out of the Crime Campus, with the work packages expected to be procured via the Scottish Government Procurement Portal.
Based on the FBI headquarters in Washington DC, the £80m centre will bring together a range of crime fighting agencies, including the Scottish Crime and Drug Enforcement Agency, the Serious Organised Crime Agency, the Crown Office and HM Revenue and Customs.
It is co-designed by BMJ and gm+ad architects and will house 1,100 officers once it is completed in late 2013.
The final fit-out phase comprises the fit-out of four blocks surrounding a large central atrium, together with, the construction of a new gatehouse and a ground source heat pump building.
Externally, all hard and soft landscaping works will be undertaken along with the completion of perimeter security fencing and access gates.
Graham Construction won the initial £25m main shell and core contract.