Hillingdon council appoints architect to work on improving plans for Hayes & Harlington Crossrail station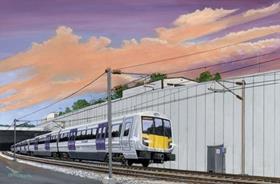 Architect John McAslan & Partners has been appointed by a second London council to work on improving plans for Crossrail stations on the outskirts of the city.
Amid an ongoing row over design quality, Building revealed last month that at least three local authorities in the capital had employed their own architects to work on Crossrail designs in a bid to improve existing proposals for stations and their surroundings.
Back then, west London's Ealing council said it had employed McAslan to work on Southall along with HOK at Ealing Broadway.
Now, Building has learnt that McAslan is the firm employed by nearby Hillingdon to work on plans for Hayes & Harlington station.
Existing proposals for all three stations have faced criticism from the councils and local communities and are among 13 designed by Bennetts Associates for Crossrail partner Network Rail.
Director at John McAslan & Partners, Hiro Aso - the architect behind the transformation of King's Cross - said the firm had previously worked on a number of "urban integration studies" for Crossrail including one at Southall.
He said: "We're supporting Bennetts achieve what they need to achieve. The local authorities are very serious in their ambitions for these stations - there has been a frustration that has been brewing for a while.
"We are trying to help with the communication between the local authorities and Crossrail."
Crossrail has previously said it "welcomes further input" from council-employed architects while Bennetts has complained that the "scope" for outlying stations was constrained by a Crossrail spending review.