Decision comes weeks after 55 Gracechurch Street was OK'd
A 33-storey tower Historic England said should be turned down because its design wasn't good enough has been given the green light by City of London planners.
The scheme at 70 Gracechurch Street has been drawn up by KPF for Hong Kong firm Tenacity.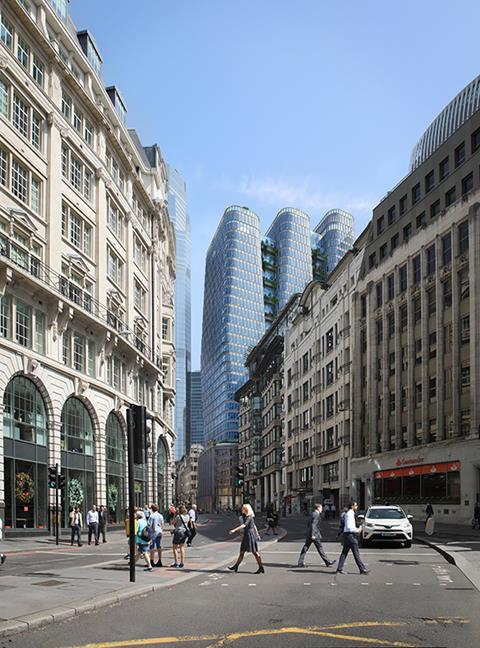 Its approval this morning comes a few weeks after another scheme at nearby 55 Gracechurch Street by the same developer was also given the thumbs-up.
The tower at 70 Gracechurch Street will see more than 1,000 long stay and short stay cycle parking spaces added and a public gallery and winter garden installed at levels 29 and 30.
The site is currently occupied by a 10-storey building completed in 2001, comprising a Marks & Spencer department store on the ground floor with office space above.
It was previously home to a 26-storey building designed by Richard Seifert at the end of the 1960s. It was a headquarters for Barclays Bank, who moved out in the mid-1990s, before it was knocked down in 1998.
KPF's original plan was for a 228m tall building but this was scaled back to 155m following discussions with City planners and Historic England last year. Instead, the submitted plan is for a scheme featuring "three interconnected slender tower elements, which taper towards the top".
Historic England had said KPF's design will also harm views of St Paul's Cathedral as well as lead to such a loss of light at nearby Leadenhall Market that "it could have a negative effect on the market's future sustainability".
Its principal inspector of historic buildings and areas, Michael Dunn, added: "The prominence of the proposal at No. 70 Gracechurch Street […] demands a very high quality design response to its context. We question whether the proposed design is of such quality."
Consultants working on the scheme include QS Alinea, structural engineer Robert Bird and MEP engineer DSA.
Fletcher Priest's plan for a 32-storey building at 55 Gracechurch Street was given the green light after complaints from neighbours that it will blight their daylight and damage their occupiers' health fell on deaf ears.
Consultants working on this scheme include heritage specialist Montagu Evans, QS Alinea and structural and facade engineer AKT II.