Exclusive: Gensler, Expedition and Blue Sky Building appointed for £10m-plus London project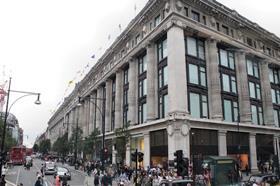 Luxury retailer Selfridges has hired architect Gensler, engineer Expedition and construction manager Blue Sky Building to work on plans for a £10m-plus revamp of its flagship Oxford Street store, Building can reveal.
The planned scheme, which was submitted to Westminster council for approval this month, will create more retail space at Selfridges by knocking together its famous 1909-built classical-style building fronting Oxford Street and a later extension built behind it, known as SWOD after the Somerset, Wigmore, Orchard and Duke streets that used to surround it.
The plans also involve building an entrance via Duke Street and an underground tunnel linking the store with an office block Selfridges owns behind it.
Sources close to Selfridges said the retailer was pushing ahead with the plans to make space for a "high profile brand" on the ground floor.
It is unclear how the submitted scheme fits in with a wider masterplan for the block-wide site drawn up by Shard architect Renzo Piano although market sources said Piano's masterplan was still being considered.
One source close to Selfridges described the submitted scheme as an "enabling part of the masterplan," adding Piano's masterplan was "all a question of timing […] Selfridges likes to talk in terms of 100 year plans so it's difficult to say."
The project team also includes transport engineer WSP and property agent JLL.
Selfridges has been planning to overhaul its Oxford Street store for over a decade.
The store shelved a high-rise £300m extension scheme drawn up by Foster + Partners in 2003 after Westminster planners judged it "unacceptable".
As part of the Gensler-designed scheme a service ramp that partly separates the classical and SWOD buildings will be moved to the rear of the building to enable the two buildings to be seamlessly linked.
The third floor of the SWOD building - which is part-retail, part-Selfridges' offices - will be converted from office space to retail.
Selfridges also plans to make public realm improvements to Duke Street and Edward Mews as part of the scheme.
It is understood the tunnel link between Nations House and the store is intended as a new entrance for the store's 3,000 staff rather than for customers.
A source close to Selfridges said the overall development value of the scheme would be "a lot more than £10m".
In a statement accompanying the planning application Selfridges said: ""These applications are submitted in response to Selfridges' ambition to remain the world's best department store and in so being, help support the continued vitality of London's West End."
Selfridges bought Nations House behind its Oxford Street store for £130m from investor Hermes in December 2012.
Selfridges and Renzo Piano Building Workshop have been contacted for comment.