Irvine Sellar says plans will transform the central London area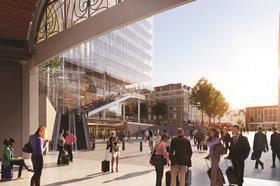 Developer Irvine Sellar has said he wants to emulate the success of Argent's regeneration of King's Cross with his Paddington Cube project.
Sellar's £775m Renzo Piano-designed plans for Paddington include a 14-storey glass cube on the site of the former Royal Mail sorting office, a new station for the Bakerloo underground line, and 1.35 acres of new public realm.
The man behind The Shard said he wanted to open up views to Isambard Kingdom Brunel's "beautiful" Grade I listed train station, according to the Evening Standard, which Historic England has described as "one of Britain's most splendid and historically significant railway termini".
At Kings Cross Seventies concourse buildings were demolished revealing the station's original 1852 façade.
The plans from Sellar in joint venture with Singapore's Great Western Developments include spending £65m on a new Bakerloo line station and ticket hall at Paddington Station, which is currently undergoing a £20m refurbishment by Network Rail.
Sellar said he wanted to "do a King's Cross", adding: "We want to open up the connectivity with the Brunel station, which is hidden, so people coming out of the tubes and walking along Praed Street can see the presence of one of the most important stations in London and also a link to the rest of the world through the Heathrow Express.
"People coming off the Bakerloo line and connecting at Praed Street will be able to see Paddington Station for the first time ever."
He added: "Doing nothing is not an option because the opening of the Elizabeth line [Crossrail] means the number of passengers will double."
Sellar is expected to submit a planning application for the revised scheme in mid-September having previously scrapped proposals for a 72-storey pole after fierce local opposition.
Plans to house 330 luxury flats within the scheme have also been ditched with the developers opting instead for 360,000 sq ft of office space plus 80,000 sq ft of retail.
Shard architect William Matthews, who has been involved in the scheme, told Building that Sellar ditched the flats partly because offices are less contentious and prompt fewer complaints than luxury flats.
He said: "There was a concern with the previous scheme because of the resi and the growing tiredness and anger in some quarters about high-end resi. People are much more forgiving about an office building. I understand that."