Steelwork contractor breaks with tradition as it plans growth strategy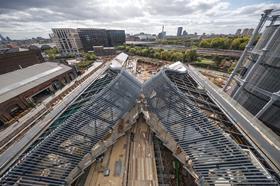 Steelwork contractor Severfield says it will be targeting jobs as small as 100 tonnes in the coming years as its plots ways to increase its workloads.
The firm has traditionally focused on projects where the amount of steel used has been a minimum of 800 tonnes with some of its current schemes including the work to build a new stadium for Tottenham Hotspur and the Coal Drops Yard retail scheme (pictured) in King's Cross.
But acting chief executive Alan Dunsmore said Severfield will now be eyeing jobs below the 800 tonnes figure and has set up a new business called Severfield Products and Processing to target this type of work.
The size of the UK structural steel market is around 1m tonnes – down from a 1.4m tonnes peak a decade ago – but Dunsmore said it was only bidding for around 300,000 tonnes of the current market.
"We're looking at ways to grow," he added. "There are hundreds of jobs that are between 100 and 600, 700 tonnes. It's a large market on our doorstep that we're not in."
The firm is rejigging its two North Yorkshire factories with steel fabrication being consolidated into its Dalton plant while its Sherburn plant will provide processed steel for the smaller jobs.
Severfield's commercial work such as high-rise towers accounts for around 45% of its turnover and Dunsmore said this part of its workload was holding up with its traditional London powerhouse being supported by jobs elsewhere in the UK such as Birmingham, Cardiff and Manchester.
The UK accounts for 95% of work but earlier this year the firm appointed a European business development director with work in the EU including a data centre in Belgium while it is bidding for the steel package on the scheme to extend Schiphol Airport in Amsterdam.
Dunsmore said he wanted stability and certainty from the UK's ongoing Brexit negotiations with the EU and said a hard Brexit would be a "shock".
Further afield the firm is sticking with its India business which it launched in joint venture with local steel firm JSW nearly 10 years ago. Dunsmore said a lot of schemes in the country still used concrete frames but said there were signs that was changing: "It's a long term value build. The market out there is enormous."
Dunsmore, who became acting chief earlier this year after Ian Lawson stepped down because of health issues, was speaking as the firm yesterday unveiled a 55% hike in pre-tax profit to £11.5m in the six months to the end of September with revenue up 16% to £137m. The firm said operating margins for the period were just over 9% but would come in at 8-8.5% for the full year.
Dunsmore added that Lawson was "in much better shape" and that there would be an update in the new year on when he will return.