Host of architects and consultants across eight teams in running for prestigious job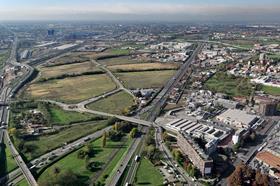 Eight teams including AHMM, Amanda Levete and Asif Khan have until April to work up concept designs for the competition to build the UK pavilion at next year's Milan Expo.
Other architects to make it onto the multi-disciplinary teams that have been shortlisted include David Kohn Architects, Gensler, BDP and Wilkinson Eyre.
The eight have made it through to the second stage of the two-stage design competition which is being run by Malcolm Reading Consultants, the firm that brought Thomas Heatherwick to worldwide attention when he won a similar contest for the UK's pavilion at the 2010 expo in Shanghai.
The £6m Milan pavilion will showcase Britain's contribution in research, innovation and entrepreneurship to the global challenges addressed by the Expo theme 'Feeding the Planet, Energy for Life'. The British theme for the project is 'Grown in Britain: Shared Globally'.
More than 20 million visitors are expected to visit the six month Expo in Italy.
Reading, who is masterminding the competition for UK Trade and Investment, said: "The shortlist represents an inspiring mix of creative skills, combining design, content and interpretation and spanning a number of professional fields from architecture and music to agri-business, via engineering and story-telling."
He added that the design of the pavilion needs to be driven by the entertainment and educational activities that happen inside it.
It will be built on a 1,910sq m plot on the main street and can be a single building or a number of smaller buildings.
A winner is due to be named in May.
This story first appeared on Building Design
THE EIGHT SHORTLISTED TEAMS
Amanda Levete Architects with The Nature Conservancy, The Future Laboratory, Exposure, Gross.max, Woodroffe Bassett, AKT II and Max Fordham
Allford Hall Monaghan Morris with Scan Lab, Studio Myerscough, Richard Greenwood, Gillespies, Eckersley O'Callaghan and Atelier 10
Asif Khan with Ralph Appelbaum Associates, Josh Schowald, AKT II, Atelier Ten, AECOM, iart, iLUKA, Dr. Rachel Armstrong, Andrew Pimbly and The Skinny Bib
Barber & Osgerby with Universal Design Studio, Imperial College, the Science Museum and the Natural History Museum, MAP, Gensler, Max Fordham, Arup, Lend Lease, Speirs and Major and B-Reel
David Kohn Architects with Bompas & Parr, London Research Kitchen, Random International, Exploration Architecture, Max Fordham, Jane Wernick, Jonathan Cook Associated, Tristram Stuart/Feeding the 5000, Change performing arts, Nicola Twilley/Edible Geography and the Biotechnology and Biological Sciences Research Council
Grant Associates with Wilkinson Eyre, Seawater Greenhouse, Cornwall Food Foundation, Atelier One, Atelier Ten, Thomas Matthews, Sennep, Five Hate and Buro Four
Paul Cocksedge Studio with GrowUP and Arup
Wolfgang Buttress Studio with Slow Food UK, Martin Dewey, Tristan Simmonds Studio, BDP, Clear Consultants, Professor Rudi Klein and Fleet River Music