Firm, which was booted off fair payment initiative in April, sees pre-tax profit jump in 2018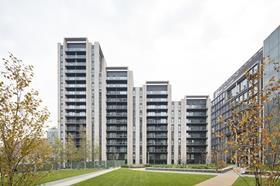 The chief executive of John Sisk has said it is "one of the best payers in the industry" as he hit back at a government accusation the firm mistreats subcontractors.
In April, the company became the first and only construction firm to be fully removed from the Prompt Payment Code – a government scheme under which firms pledge to pay 95% of their invoices within 60 days – while peers including Balfour Beatty and Interserve were only suspended after promising to turn things around.
Other firms to be kicked off nearly six weeks ago included mining giant BHP, logistics firm DHL and tea company Twinings.
At the time, business minister Kelly Tolhurst said: "The Prompt Payment Code Compliance Board has acted to expose those whose payment practices fall outside of their obligations to treat suppliers fairly."
According to Sisk's payment data, which under government legislation firms of a certain size are now required to provide every six months, the company in the second half of last year paid 28% of invoices in more than 60 days, while 59% of all invoices not paid within the agreed terms.
But Stephen Bowcott, chief executive of Sisk, told Building: "We don't think we have got a problem."
He said his firm's payment record looked worse on paper as delays on small payments it makes caused by incorrect tickets – the second stage of its three-stage payment process – or invoices are counted as late items.
"We are being trapped by a data collection system which quite frankly doesn't reflect the reality of the way we pay," said Bowcott.
"The way the code works is, if you are late on a £1 invoice, it's the same as being late on a £1bn invoice," he added, revealing that over half of "small ticket" items are sent to the firm with some kind of error. "I think it's a very harsh methodology in the payment code."
Bowcott also said suppliers were "easily" getting credit insurance on jobs for Sisk and said only one firm had been in touch to ask whether there was an issue after it was booted off the Prompt Payment Code.
He was speaking as Sisk's holding company, Sicon, reported a €1.17bn (£1bn) turnover in the year to December 2018, with the group making a pre-tax profit of €28m (£25m).
The UK business achieved a 1.5% margin on its £323m turnover, up from £219m last time, with pre-tax profit jumping from £428,000 in 2017 to £3.2m.
In the UK, Sisk is currently working on 14 sites, including Quintain's huge build-to-rent scheme (pictured) in Wembley, north-west London, with the average value of its jobs in the UK standing at £80m. Sisk also has a FM civils business which operates from a base in Bristol.
Bowcott said the firm had been bulk buying certain products ahead of Brexit, adding: "Bathrooms pods are clearly an issue, particularly [those] coming into the UK."
He said the firm improved productivity by 15% during the year, with less staff but improved efficiency through use of better logistics, drones and digital defect checks. Sisk is currently working on a brick-laying robot for use in London.
While the firm's operations are mainly in Ireland and the UK. it is also following certain customers, including US tech giants Facebook and Microsoft, to Europe – with operations now in Switzerland, Sweden and France.