Exclusive: Contractor sees off three big name rivals to take £600m job to redevelop the Battersea Power Station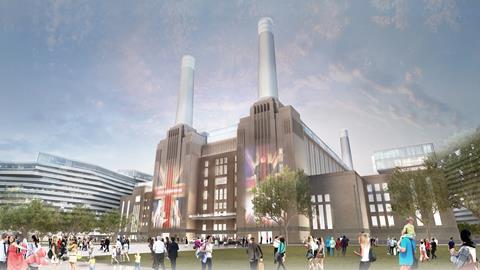 Skanska has been picked as the preferred bidder for the prestigious £600m job to redevelop the Battersea Power Station, Building can reveal.
As Building revealed in June, Balfour Beatty, Lend Lease, Mace and Skanska have been battling for the contract to redevelop the iconic grade II* listed power station into a major mixed-use scheme.
Last month, all four bidders pitched for the job in Kuala Lumpur, home of the Malaysian consortium of owners behind the Battersea scheme.
It is understood that following the Malaysian pitch, the race for the job narrowed to Skanska and Balfour Beatty and Building now understands that Skanska has been selected as the preferred bidder for the project, which has been designed by architect Wilkinson Eyre.
The contract win is expected to be announced in the coming weeks, as the backers of the scheme finalise a fresh funding deal for next phases of the wider £8bn project.
Last week Battersea Project Holding Company Limited chairman Tan Sri Liew Kee Sin said a number of banks had agreed to provide loans worth £1.35bn for the phase 2 and 3 of the project.
Skanska is already working on phase one of the project, after the firm was awarded a £90m contract to fit out 866 homes on the £400m first phase, which is being built by Carillion.
The £600m redevelopment of the power station building, which constitutes the main element of the second phase, will feature retail and events space on the lower floors, 58,000m2 of offices above and 248 flats crowning the building.
The scheme also incorporates a circular glass lift that will emerge out of the top of one of the building's rebuilt chimneys, giving visitors views across London.
Mace is acting as construction manager on the £100m first element of the second phase, which involves the repair and restoration of the historic structure itself, including the iconic chimneys.
Work has already begun on dismantling the first of the 100m-tall chimneys, which together with the other three will be rebuilt using the same concrete and reinforced steel materials but to modern specifications by 2016.
The win is the latest in a string of recent prestigious London contract wins for Skanska, with the firm picking up the £95m job to build Helical Bar's One Mitre Square office scheme, as well as the £103m 1 & 2 Ludgate and the £177m 1 New Street office schemes, both for Land Securities.
Last year the contractor also bagged the £500m Scalpel tower in the City of London, for US insurance firm W.R Berkley.
The Battersea Power Station Development Company and Skanska declined to comment.