Latest RICS construction market survey sees surveyors report the sharpest rise in workloads since 1994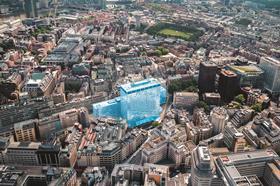 Growth in private housing and commercial construction has seen surveyors report the sharpest rise in workloads since 1994, according the latest the RICS UK Construction Market Survey.
However, the survey, covering the third quarter of the year, also found that the growth in workloads has led to the skills shortage becoming more acute, with 57% of respondents citing a shortage of quantity surveyors as a problem.
The survey also found that shortages across all the main trades and professions were at their most pronounced since 2004, with bricklayers particularly scarce
Across the UK, the survey found the main factors that were limiting building activity were a shortage of labour, followed by access to finance and a shortage of materials.
The shortages come 46% more surveyors reported a rise in workloads than a fall in the third quarter, up from a balance of 41% in the previous quarter. This marked the eighth consecutive quarterly rise in workloads.
Private housing sector grew robustly across all parts of the UK, with the London and the South-east regions seeing the strongest growth.
In the private commercial sector, workloads also reached a series high, with a balance of 59% more surveyors reporting an increase in activity than a fall.
Workloads in infrastructure saw more measured growth, with 27% more surveyors seeing activity levels rise than fall.
Alan Muse, RICS director of built environment, said despite these limited factors, "UK workload sentiment now standing at its highest level in two decades".
He said: "Of course factors impacting construction activity, such as skill shortages and material shortages, must be addressed if we are to avoid capacity constraints and promote productivity and efficiency in the workplace, but it is equally important that the underlying framework for effective planning and delivery of projects is in place to ensure long-term construction growth that is evenly spread across the UK.
"Government must now ensure it builds on these foundations of confidence with the mechanisms to get house building and infrastructure projects out of the pipeline and into the ground."