But FMB says growth slows compare to end of 2017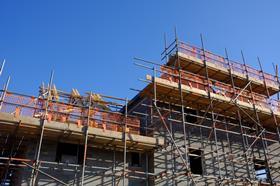 The workloads of SME construction firms grew slightly in the first three months of this year, according to the Federation of Master Builders.
While workloads continued to increase, the rate of growth slowed in the first months of the year compared to the final quarter of 2017, according to the Federation of Master Builders' latest State of Trade survey.
The number of firms reporting growth in their workload dropped from 35% in the last three months of last year to 32% quarter one 2018.
Firms reporting a drop off in work also increased, with the proportion of SME builders seeing a slowdown growing from 15% to 24%.
But the outlook appears bright, with more construction SMEs predicting rising workloads in the coming three months, up from 38% in the previous quarter to 49% in the three months to March.
Brian Berry, chief executive of the FMB, said: "Workloads for builders continued to grow in the first quarter of 2018 despite the 'Beast from the East' wreaking havoc across the UK's construction sites.
"However, once again, the growth we are seeing is slower than in the previous three months and this can be partly attributed to pressure from rising costs.
"We are also seeing increased salaries for tradespeople stemming from the acute skills crisis and that, coupled with material price hikes, are squeezing margins and stifling growth for construction firms of all sizes."
Two-thirds (66%) of construction SMEs expected salaries and wages to increase during the next six months, up from 62% in the previous quarter.
But Berry said the latest surey showed worrying signs when it came to housing.
Berry said: "In terms of house building, these latest results should sound some alarm bells with the workloads of SME house builders dropping off in the first quarter of this year. In 2017/18, 197,000 homes were started in England but this is some way off the government's target to build 300,000 homes per year.
"The FMB has worked closely with the government to identify how to remove barriers to small local housebuilders, but these latest results act as a reminder that there is more to be done.
"The FMB would now like to see the continued and speedy implementation of some positive government policies designed to bring forward more small sites, properly resource planning departments and increase the flow of finance to SME house builders."
He said if government hoped to reach its house building targets it was imperative to not solely rely on large housebuilders.