City council leader reveals progress on long-awaited developments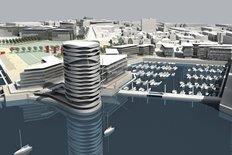 Southampton is making progress towards starts on several major development schemes, the city council's leader Dawn Baxendale has said.
Speaking at a Built Environment Networking event in the city, Baxendale provided updates on a number of major schemes, including the city's long-awaited £400m Royal Pier Waterfront (pictured) and £90m Watermark WestQuay schemes.
The city council is working with Royal Pier Waterfront joint developers ABP, Morgan Sindall and Lucent to get a planning application in for the huge mixed-use scheme by January 2015, Baxendale said.
She also confirmed the £90m first phase of Hammerson's long-awaited Watermark WestQuay leisure and retail complex will start on site this autumn, adding this will "probably be in October".
Baxendale also revealed the city council is working with Network Rail on a potential £35m mixed-use quarter to the south of the city's railway station.
Associated British Ports (ABP), Southampton Solent University and Southampton Airport also shared their development plans.
ABP plans to invest £150m in the Port of Southampton over the next five years, a 50% increase on the last five year period, Southampton Solent University is planning a rolling series of developments at its East Park campus and Southampton Airport plans to invest £30m over the next three years and is currently updating its masterplan.
Baxendale said Southampton had been "well-hidden" for too long.
She said: "Southampton has been well-hidden, there's no doubt about that, in terms of its location, its potential and the reality of what can be delivered here.
"I'm here to tell you not only is that very different today, but it is being done because we work very closely with, and in partnership with, the private sector."