Hammerson has won detailed consent for its £70m leisure-led development on Southampton's waterfront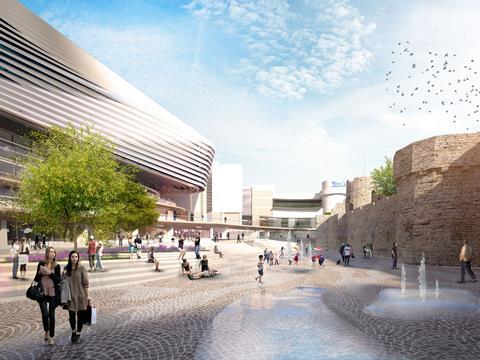 Southampton City Council granted consent last night for the Watermark WestQuay scheme, incorporating a ten screen cinema, up to 20 restaurants and a major public piazza for the city.
The upper and lower promenades of the development will be lined with restaurants and cafes, with the leisure facilities and cinema on top.
Work is expected to start later this autumn on the site, which is located on a derelict site next to the city's WestQuay Shopping Centre, which is jointly owned by Hammerson. Watermark WestQuay is set to open in autumn 2016.
The new public square, which located in front of Southampton's historic wall, includes a water feature that ebbs and flows like the pools created by the tidal mudflats on the Southampton coastline.
The detailed consent covers the first phase of the master plan for Watermark WestQuay , the second stage of which could see the delivery of a hotel, residential tower, shops and office space.
ACME masterplanned and designed Watermark WestQuay, Grant Associates are the landscape architects and Barton Wilmore supplied planning advice on the project.