Duro Felguera defeated in High Court after disputing adjudicator's decision on civils contract row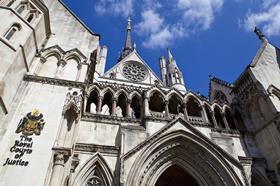 Spanish contractor Duro Felguera has been ordered to pay John Sisk & Son at least £10m in a High Court ruling in a dispute over civils work on an undisclosed combined cycle power plant project.
Sisk took the matter to court to enforce the decision of an adjudicator, who had already awarded Sisk in excess of £10m.
The dispute was over the amount of concrete work Sisk had carried out on a civils contract, and how much this should cost under the contract. The adjudicator valued Sisk's work on the scheme at £36m.
Duro Felguera UK Ltd, the Spanish group's UK business, disputed the adjudicator's decision on the grounds that there were "breaches of natural justice" and, in its view, the adjudicator had "wrongfully" delegated some of his decision-making role.
In delivering his judgement, Mr Justice Edwards-Stuart said Duro's challenge to the adjudicator's decision "fails on every ground."
Duro disputed Sisk's claim and contended that Sisk's position was based on a misconceived interpretation of the contract.
While Duro agreed Sisk should be paid for the concrete, it could not agree on a rate with Sisk.
The judgement comes after John Sisk & Son's involvement last year in another high-profile dispute, with luxury hotel chain Shangri-La, which related to work on the Shard skyscraper in London.
Sisk and Shangri-La reached an out of court settlement last September over their multi-million pound High Court battle, which centred on major delays to the fit-out of the Shard's luxury hotel.
Shangri-La hit John Sisk & Son with a £57m High Court claim over problems on the £39.2m fit-out of its flagship European hotel - which ultimately opened a year late. John Sisk & Son hit back a month later with a vigorous defence and a £26.8m counterclaim.
At the time, it was believed the settlement was a so-called "walk-away" deal, with no money changing hands on either side.