Sener business development director Jesús Planchuelo speaks exclusively to Building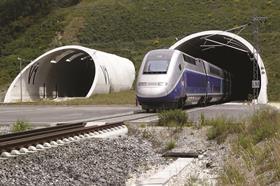 The Spanish engineering giant bidding in joint venture for a lead role on HS2 - Sener - is eyeing up further work in the UK on HS2, Crossrail 2 and in the aviation sector.
Speaking exclusively to Building, Sener business development director Jesús Planchuelo said the €1.3bn-turnover (£950m) firm was targeting growth in the UK infrastructure sector.
The firm already has 200 employees in the UK, but is targeting "significant" further expansion, Planchuelo said.
Planchuelo confirmed that Sener is bidding for the £350m route-wide engineering delivery partner (EDP) role for phase one of HS2 in a joint venture with Atkins and CH2M.
As revealed by Building last month, this joint venture and a rival Bechtel-Jacobs consortium are thought to be the frontrunners for the high-profile role, with formal invitations to tender to be issued by client HS2 Ltd this month.
Sener is a 6,000-strong engineering consultant and posted a £49m pre-tax profit in the 2014 calendar year, up from £16m the previous year.
The firm's main UK office is in Manchester, but it also has an aeronautics division with offices in Lincoln, Rugby, Whetstone, York and West Sussex.
But Planchuelo said the firm's main focus in the UK will be opportunities in the infrastructure market, particularly rail.
Planchuelo said: "We'll go for opportunities where we feel we can add something different to what's already in the market."
Sener already has extensive experience in high-speed rail, having been involved in several high-speed rail projects in Spain, as well as the planned $68.4bn (£45bn) California high-speed rail line in joint ventures with firms including Spanish contractor Dragados.
It was also recently the sole winner of a $60m (£40m) contract on the high-speed project in California to provide the preliminary design for 45 miles of the line from Palmdale to Burbank.
Planchuelo added that Sener will look at opportunities in the aviation market in the UK where Spanish contractors are involved.
Spanish firm Ferrovial, a major shareholder at Heathrow Airport, was appointed to the airport's contractor framework to carry out non-terminal related work on the airport's northern half as part of Heathrow's £1.5bn programme of works until 2019.