St Modwen says it will take a more cautious approach to delivering its pipeline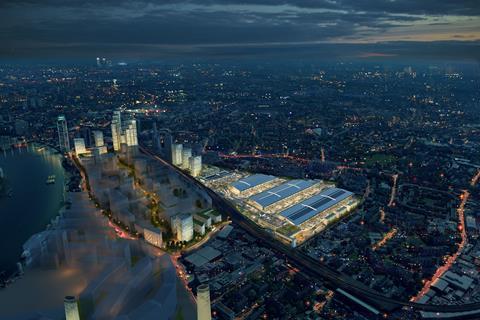 Developer St Modwen and housebuilder Persimmon have made their first statements to investors in the wake of the Brexit vote.
St Modwen, which posted half-year results this morning, said it was "too early" to accurately predict how the UK property market would respond, but added that it would take a "more cautious approach to delivery of our development strategy".
The developer - which is behind major schemes including London's New Covent Garden Market (pictured) and a major campus complex in Swansea - said it will "continue to monitor the phasing of the pipeline".
In a trading update, Persimmon agreed it was "too soon" to judge the impact of the referendum result on the UK new homes market, but said it was "committed to building the new homes across the country that Britain needs".
Persimmon argued: "We believe that market fundamentals remain strong, supported by long term unfulfilled demand, and that the UK housing market will continue to provide good opportunities."
St Modwen posted pre-tax profit of £30m for the six months to May this year, down from £206m last year, although that figure included a one-off £128m property valuation gain at New Covent Garden Market.
Persimmon will post half-year results to June next month. The housebuilder said trading over the first half had been strong - legal completions were up 7% to 7,238 homes, while the average selling price increased 6% to £205,000.