Site near M25 and A127 to be developed in partnership with S and J Padfield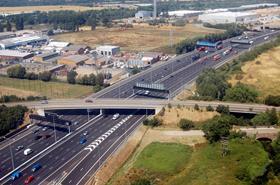 St Modwen has signed a development agreement to develop a one million ft² industrial complex at a 58-acre site near the M25 in Brentwood.
The developer has partnered with S and J Padfield to develop the site near the junction with the A127, which is currently used as a depot for maintenance work for motorway and highway network.
According to the proposals St. Modwen's will deliver one million ft² of B1, B2 and B8 floor space including supporting amenities.
The site is identified for employment development in the emerging Brentwood Local Plan, which is expected to be published in draft form later this year.
London & South East regional director at St. Modwen, Tim Seddon said: "The core attraction of this site lies in its strategic location on junction 29 of the M25. It has enormous potential and we have every confidence that this will be a flagship project for St. Modwen that will bring significant office, warehouse and factory employment to the area.
"With our partners we are determined to create a lasting legacy for Brentwood."