Developer reports surge in profit on the back of £120m sales boost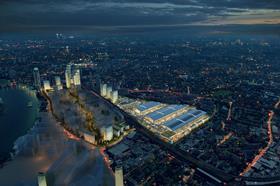 St Modwen is gearing up to begin work on its massive £2bn New Covent Garden Market mixed-use scheme in south London by the summer.
In bumper full-year results published this morning, the developer said it plans to fully commit to the scheme by May and to begin preparatory works shortly afterwards.
St Modwen's joint venture partner on the scheme - Vinci - is expected to build out the scheme.
The firm reported pre-tax profit rose 68% in the year to 30 November 2014 to £138.1m, up from £82.2m the previous year.
A £120m surge in sales also saw the group post increased revenue of £282.1m, up from £161.1m the previous year.
The company has seen revenue increase on the back of a number of high-profile schemes including New Covent Garden Market, a major regeneration scheme in Longbridge, Birmingham and Swansea University's Bay Campus project.
St Modwen's property division posted a 45% rise in profit to £57.7m from £39.8m and within that, a 167% increase in housebuilding activities boosted profit from residential schemes to £24m, up from £9m in 2013. The company announced that total commercial development activity now stands at 3m ft² across the UK.
The £2bn New Covent Garden scheme in Nine Elms will create a new 500,000ft² market; 3,000 homes and 135,000ft² of office space over the next decade.
The £1bn regeneration of Longbridge in Birmingham started in 2007 and has so far delivered a new 250,000ft² Bournville College and a 150,000ft² Technology Park. Phase two of the project will see a 150,000ft² flagship store for Marks & Spencer complete in time for Christmas 2015.
Bill Oliver, chief executive of St. Modwen, commented: "This has been an exceptional year for St. Modwen and we have achieved significant progress across all of our major projects as well as increasing our active pipeline of commercial development opportunities to over 3m ft² of space. The residential part of the business continues to perform well with good sales rates achieved throughout the year and we anticipate a sustained performance into 2015.

"Across the UK, we continued to grow the business, capitalising on the upturn in the regional property market and we look forward to continuing this level of success throughout the coming year."
St Modwen has reported an increased demand for land across the country as housebuilder respond to lack of supply. The company sold or committed for sale 52 acres of land for a total of £95m in the previous financial year.
The company has increased its land bank to 28,790 plots, from 27,023 in 2013 of which 83% have either planning permission or allocations within local plans.