Main contractor Beard will start on £37m job this autumn
Stanton Williams' £37m overhaul of Rhodes House, part of Oxford University, has won planning on the casting vote of the committee chair.
The scheme will allow the Rhodes Trust to increase the numbers of scholarships it offers by providing new offices and residential accommodation for 40 guests as well as a conference centre.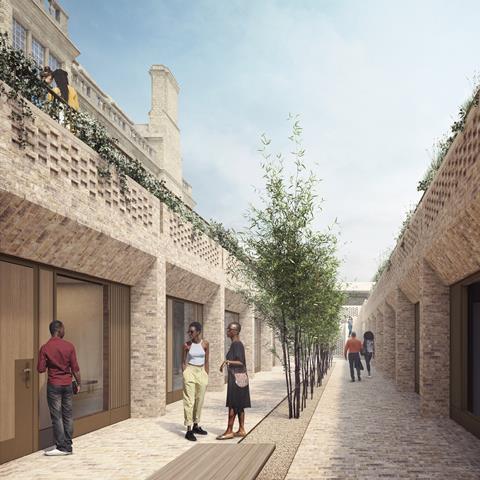 Beard is due to start construction this autumn and with work expected to last two years.
The convening facilities for 300 people will be created in the lower-ground floor of the existing grade II* building, extending under and connecting with the wider landscape.
Rhodes House, set in a large garden on the city's South Parks Road, was completed in 1929 and designed by Herbert Baker, an employee of Cecil Rhodes.
The imperialist, who established the trust in his will, is a controversial figure whose statue at Oriel College became the focus of a campaign called Rhodes Must Fall in 2015, which in turn inspired other protests and the toppling of slave trader Edward Colston's statue in Bristol in June.
The trust is best known for its Rhodes Scholarships, the world's oldest international graduate scholarship programme established in 1903, which covers the fees for 100 postgraduates a year to study at Oxford, among them a young Bill Clinton.
Stanton Williams' project will restore the original building as well as making it more sustainable, reorganising the site and adding new facilities.
The trust's director of estates, Mat Davies, said the building was largely untouched from the time it was completed in 1929.
The conference centre would enable dialogue on a scale never possible before at Rhodes House, Rhodes warden Elizabeth Kiss added.
Others working on the scheme include cost consultant Gleeds, structural engineer Webb Yates Engineers and M&E engineer Skelly & Couch.