Architect to submit a planning application for transformation of the Royal Opera House before Christmas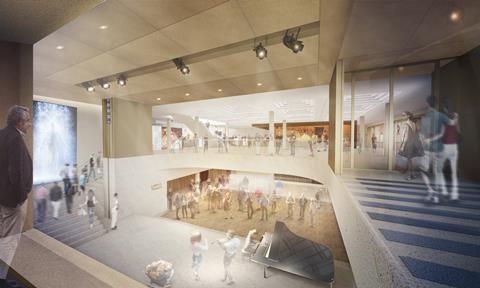 Stanton Williams will submit a planning application for its £37m transformation of the Royal Opera House before Christmas.
Detailed plans by the Stirling Prize-winning architect have gone on display as part of a public consultation ahead of a planning application which is expected to be submitted to Westminster council by mid-December.
The practice beat off leading architects from around the world including Witherford Watson Mann, Amanda Levete, Caruso St John, Jamie Fobert, Diller Scofidio and Renfro and Heatherwick Studio.
"Its proposals struck the right balance between respecting what we have and developing it in line with our aims for the public," said ROH chief executive Alex Beard writing in the Evening Standard about the venue's Open Up project.
The most prominent change will be a new glazed entrance on Bow Street which will give passers-by a clear view of the activity inside. It is intended to banish any sense that only the privileged are welcome.
Inside there will be spaces for exhibitions, education and events, digital interaction and a revamped bar and restaurant.
The architects also intend to improve the "back" entrance on to Covent Garden piazza, drawing people in to the building who have been watching the opera house's productions on open air big screens.
Improvements are planned to the ground- and upper-level foyers with better flow between floors and some solid walls replaced with glass.
The smaller Linbury Studio Theatre will also receive better facilities for performers and audience.
"We want the buzz that begins before performances to be present throughout the day; we want more people to use the spaces more of the time, for that undercurrent of excitement to be a constant feature," said Beard.
"So, once the dust has settled, what will you encounter? Fundamentally your experience of what we do today will be enhanced in every way. You'll find an inviting place, open and flooded with light. Its natural flow will draw you through the entire building, with stimulation at every point."
During the work, which could start in 2015 and take two years, the main stage productions will continue uninterrupted.
The Open Up display in the ROH foyer is open daily from 10am-7pm until Friday 7 November.