Timber specialist will supply frame for 1,500 homes being built by the housing association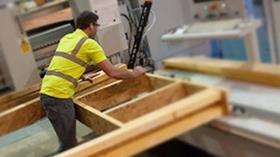 Stewart Milne Timber Systems has signed an agreement to build and deliver timber frames for housing association L&Q.
The firm will supply frames for more than 1,500 homes for L&Q, which plans to build around 100,000 homes in the next 10 years.
The firm, which has three manufacturing centres in the UK, said it also planned to back L&Q on bids for standalone contracts on the open market.
Alex Goodfellow, Stewart Milne's group managing director, said the closed-panel timber frames would initially go into an L&Q development in Birnam Mews in Tiddington, Warwickshire, and Saxon Reach, in Milton Keynes, with deliveries set for this spring.
Fiona Fletcher-Smith, L&Q's group director of development and sales, welcomed the deal and said off-site manufacturing would "speed up the delivery and build quality of our developments while reducing the costs of projects".