New chair Bill Bolsover discusses aims for the organisation and rift with UKCG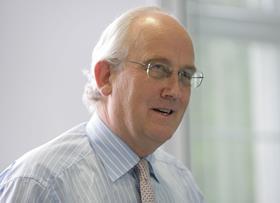 The new chair of the Strategic Forum for Construction has said he wants it to become the first port of call for the government to talk to the industry.
Speaking to Building, Bill Bolsover (pictured), chair of Aggregate Industries and recently appointed chair of the Strategic Forum, said he had told the government that the forum was "where you can sit down and talk to the top of this business".
He said he expected government to "start channelling everything and coming back as one to us". "At the moment there are a plethora of different groups and if we can show that we are more organised and they can come to us as one, or two or three voices. Then they can see the benefit of using this forum," he said.
The comments come after nearly a year of wrangling over the future of the forum after Paul Morrell, the government's previous chief construction adviser, put forward a plan to remodel it to become a "single voice" for the industry.
However, negotiations came to a head last November when the UK Contractors Group (UKCG), which represents over 30 of the UK's main contractors, made it clear it would not support any new body that duplicated the work of the CBI Construction Council.
UKCG is now no longer taking part in the Strategic Forum.
Bolsover said he was "disappointed" and "confused" by UKCG's decision, though he did understand why they did not want to be part of more meetings.
He added that ministers did not want to meet with the CBI Construction Council because it did not include the "guys at the top" of the CBI. "But the guys at the top are talking about everything [across all industries]," he said.
Stephen Ratcliffe, UKCG chief executive, disputed this claim, saying ministers attended the construction council "all the time".
Bolsover said UKCG could rejoin the forum at any time.
Bolsover said the forum will focus on helping the government develop its industrial strategy for construction, which will run until 2025, as a way of proving the industry can speak with a single voice.
Last week the forum called on experts from across the industry to help contribute to its new work programme, aimed at improving the industry and feeding into the development of the government's industrial strategy for construction.