Government survey shows a third of households having a Green Deal assessment take-up some form of energy efficiency measures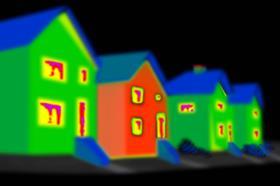 The government has published research showing a third of people having a Green Deal assessment have taken up some energy saving measures or plan to do so.
The Department of Energy and Climate Change (DECC) survey follows reports in the national press which said just three Green Deals have been signed, after over 19,000 assessments have been conducted.
DECC's report, which surveyed 506 households that had been through the Green Deal process found 33% had already taken up some energy saving measures, while a further 14% intended to do so.
Under the Green Deal, householders can have an assessment carried out and then decide either to finance energy efficiency measures themselves; apply for finance through the Green Deal; or, if they are eligible, receive finance through the Energy Company Obligation, which will most often come through a local authority or a housing association.
According to the survey, 38% of those who took out measures had the work paid for by a local authority, while 31% of respondents financed work through their own savings.
Of those not undertaking work following an assessment 73% cited financial considerations as the barrier.
It also found only 8% had to pay for the assessment and 60% of respondents said they took up the assessment because it was free and 68% said they took it up to try and save money on their energy bills.
The research also showed that awareness of the Green Deal had increased from 10% of households before the launch to 22% of household in May, four months after the scheme had started.
Energy secretary Ed Davey said the Green Deal was "inspiring consumers to take action to keep their homes warm and bills down".
"This is great news for the energy efficiency industry as well, because this shows a genuine appetite among householders for more energy efficient homes."
However, according to press reports over the weekend only three Green Deals have been signed across the whole of the UK.
The Sunday Times and the Independent reported that just three households have signed up for a Green Deal loan and only two have had work completed.
Recent official statistics show nearly 19,000 households have so far had a Green Deal assessment.
The papers reported that Green Deal providers had been bogged down by software problems in the finance systems.
The reports come ahead of the publication of official figures this Thursday (27 June) and at the same time as Building reported that take-up of the scheme in Birmingham, where one of the largest Green Deal projects in the country is taking place, has also been extremely low with just one Green Deal plan signed after 680 assessments.
Energy minister Greg Barker told the Sunday Times: "It is taking a lot longer to offer Green Deal finance than anticipated.
"The software systems for calculating the potential savings in a given property, working out how much they can borrow to carry out the work and meeting legal requirements for the loans are very complex. We believe we have ironed out the glitches," he said.
A DECC spokeswoman said the reports were "not based on credible information and are not up to date".
She added: "We will be publishing the first official statistics on the number of plans and installations carried out [this] week.
"Industry comments suggest this will show a reasonable number of plans."