Client body for project says it won't reach financial close until at least next summer due to strike price negotiations, pushing back start of work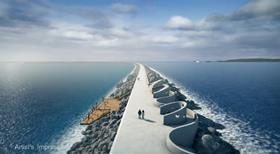 The £1bn Swansea Bay Tidal Lagoon project has been delayed by a year, the client body behind the project has confirmed.
Tidal Lagoon Power Ltd previously said it expected to reach financial close on the project by the end of this year, but has confirmed this won't be possible until at least summer 2016.
Tidal Lagoon Power said marine works on the project have been pushed back from spring 2016 to spring 2017, with only preparatory works starting in autumn next year.
The client body said its board of directors concluded it wouldn't reach financial close this year, "ruling out the start of marine works next spring."
It added: "A new timetable has therefore been agreed with tier 1 contractors targeting financial close next summer.
"Our aim is to then start the initial civil works on site in autumn 2016 in order that the marine works can start in spring 2017. As a result, target power on moves to 2021."
It is believed that negotiations over a strike price – the amount of subsidy paid by the government for the power generated – is causing the delay, with the client body looking for a higher strike price than that given to wind, solar or nuclear.
Tidal Lagoon Power had previously been looking for a strike price of £168 per megawatt hour (MWh) for its first lagoon, which would fall to £130/MWh and £92/MWh for Lagoons 2 and 3 respectively, with an average strike price of £111/MWh.
A spokesperson from the Department for Energy and Climate Change (DECC) said: "Tidal Lagoon Power are seeking a significant amount of financial support from consumers for their proposed project in Swansea Bay and we need to carefully consider whether it is in the best interest of bill payers.
"At present there is no timeframe for how long the negotiation process for Swansea Bay tidal lagoon may take. It depends on a number of factors, many of which are outside the control of the Government."
In comparison, the government has received criticism for the strike price of £92.60/MWh it agreed with EDF for the Hinkley Point C nuclear power station.