Experts hail approval as 'major milestone' for UK tidal power sector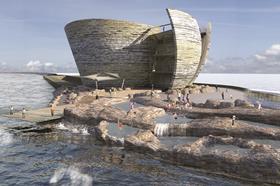 The £850m Swansea Bay Tidal Lagoon power-generation scheme has been given planning permission by the Department for Energy & Climate Change.
The scheme will create a six-mile sea wall in Swansea Bay that would feature turbines capable of generating around 0.5 TWh of electricity a year - enough to power almost 120,000 homes.
Client Tidal Lagoon Power will now look to negotiate a subsidy level with the UK government.
Mark Shorrock, chief executive of Tidal Lagoon Power, said: "With the Swansea Bay Tidal Lagoon becoming a reality, locking in 120 year life, zero carbon energy infrastructure, we have the potential to help transform our industrial economy and the UK's energy mix.
"We see it as a game-changer, a scalable blueprint, paving the way for a fleet of lagoons that can work in harmony with nature to help secure the nation's electricity for generations to come."
LDA Design led the masterplan for the project.
Tidal Lagoon Power has already announced ambitions to build five further, even larger tidal power lagoons in the Severn, North Wales and North-west of England.
Commenting on the approval, Robbie Owen, head of infrastructure planning and government affairs at Pinsent Masons, said it was a "major milestone for the UK tidal power sector".
He added: "The Secretary of State's decision to grant approval for the project will kick-start the UK's tidal sector and is expected to create the foundations for a global export industry in tidal lagoon construction."